THIS WEEK'S SERMON
Please invite your friends and join us for worship ONLINE at our Braden River UMC Facebook Live page this Sunday, May 16 at 10 AM.
Click here to go directly to our Facebook Live video page:
 https://www.facebook.com/pg/BradenRiverUMC/videos/
We are so excited about what God is doing in our midst!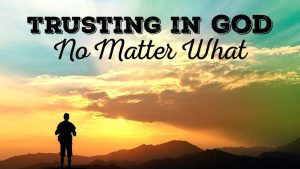 This Sunday, we explore the message "Trusting in God"
through scripture 1 Kings 19: 1-9 in the Word of God.
Please spread the word, invite your friends and come worship with us online.
God's Peace to each of you.
May 10, 2021

In this sermon Pastor Jeff reminds us to keep this Bible verse at the forefront: "I will trust in God and not be afraid."  See our entire recorded virtual service,…